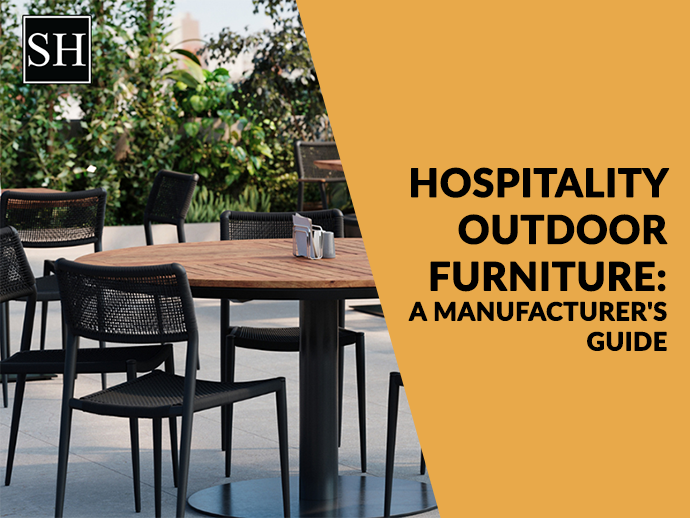 Hospitality Outdoor Furniture: A Manufacturer's Guide
Sara Hospitality |
Oct 13, 2023
Using outdoor space efficiently is an excellent business choice since it brings many patrons to the space and allows the hotel to earn more revenue. However, before you open your hotel space to the public, you must ensure that guests will be comfortable. When guests enter the hotel, they will first notice its interior designs and general ambiance. Like from wall colors to decoration, commercial hospitality furniture pieces and the general vibe of the hospitality establishment speak a lot about the brains behind the scenes. 
The leading element in commercial outdoor hospitality furniture is laid throughout the property. Furniture pieces give customers the first impression of the establishment, from the looks to vibes and the feel the hoteliers want to provide. Due to this reason, the customer's first impression of the hotel business plays a significant role. 
What to Consider in Hotel Outdoor Furniture
Usually, buyers face one leading problem while dealing with outdoor hotel furniture: finding suitable furniture that bears harsh weather conditions. However, hotel furniture manufacturers offer free consultations, but there is no harm in knowing the factors by yourself. Thus, it is imperative to determine specific factors by yourself while shopping for a hotel's outdoor furniture. 
1. Evaluate the Frames
Before making any decision, ensure yourself by checking outdoor furniture frames. Generally, outdoor hospitality furniture is made of aluminum and rattan, which are considered the best outdoor furniture materials. The two qualities set them apart and create distinction from other materials. 
2. Define the Environment you Wish to Create with your Choice of outdoor Furniture
The luxury hotel outdoor furniture you select significantly impacts the theme and atmosphere you wish to create. For instance, in your hotel have a classic piece, then you think about luxury hotel outdoor furniture, which has a classic and elegant design in neutral hues. On the contrary, if your hotel interior is modern, you can choose contemporary designs with bright hues. 
The color selection plays an enormous role in the hotel theme as the neutral theme will create calming effects, whereas bright colors offer warmth and a welcoming feeling. Matching the interior hotel theme with outdoor furniture will create a seamless flow. 
3. Maintenance
The outdoor hospitality furniture requires regular maintenance. So, it is the hotelier's choice whether they need regular maintenance furniture or maintenance free? However, the answer to this query heavily depends on the type of furniture hoteliers will select—some materials, like aluminum, are entirely maintenance-free and can be placed outside throughout the year. But the iron is likely to get rusted easily and requires routine maintenance. 
Tips to Make the Most Out of Your Hotel Outdoor Furniture
As a hotel furniture manufacturer, we always strive to stay ahead of trends and offer hotel owners the best recommendations. Like, how to utilize hotel space efficiently so guests can interact, including the great outdoors. 
Here are a few things to remember while investing in or designing hotel outdoor furniture space. 
1. Impression of Furniture on Guest
The right piece of furniture will set a distinct, attractive, and inviting tone. Like the color, the theme can set the disappointed mood into a happy perspective. Thus, always follow modern trends like:
Soft and comfortable materials which are easy to keep clean and textually palatable and avoid materials that are prone to damage under heavy use. 
Choose modern and trendy colors like rich and earthy tones that will not look outdated too quickly. 
Continue your interior styles and patterns with the outside for a smooth transition. This will ensure no metal barrier to exploring unique outdoor spaces.
2. Consider Materials and Design Through the Lens of Longevity
The hotel furniture manufacturer can guide hotel management about using the correct outdoor pieces. Like:
Does the outdoor staging floor provide the support that won' soften in the rain?
Will the outdoor hotel space be in sunlight most of the day?
Can a few furniture pieces are easily stored in existing storage space in the off-season?
Is outdoor space half covered and allows storage in bad weather?
3. Including Local Elements in Outdoor Space
Some usage of local furniture elements creates a vast difference in hotel aesthetics. For instance, a giant portrait in the lobby is one thing, but a sculpture they can touch and appreciate is an utterly thrilling experience. The hoteliers can customize outdoor furniture with accents like:
Placed plant as a centerpiece filled with local greenery
Water feature decorated with local imagery
Outdoor tabletop made with local stone
Wooden coasters
Conclusion
Regardless of outdoor space, hotel owners look for furnishing; you only need quality products to impress your guest. Sara Hospitality is a reliable hospitality provider that makes your outdoor space functional and attractive to the guest. However, investing in outdoor space will attract new guests to your hotel, retain old visitors to come back, and helps you to stand apart from competitors. 
Our store has a range of outdoor furniture pieces and accessories that make the outdoors more functional. We have already provided our services to many hotels and industries, so we are also confident about your requirement. Reach out to our store or online platform today and decorate your outdoor space with beautiful furniture pieces. 
---