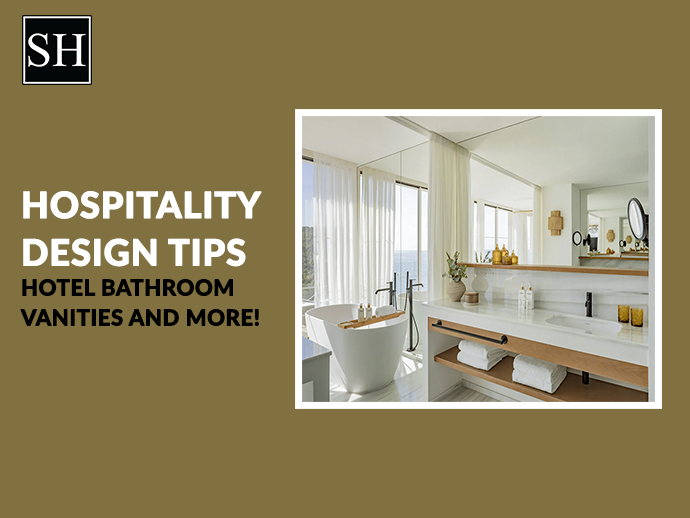 Hospitality Design Tips: Hotel Bathroom Vanities And More
Sara Hospitality |
Oct 18, 2023
The hotels are not temporary places to stay after a tiring day. Instead, it is an experience in itself. The guest looks forwards to living in a hotel, and they think the place should be clean, comfortable and elegant. One of the areas in hotels that the guest is very particular about is the hotel bathroom. Due to this reason, the designer's top priority is to build a bathroom that delights all senses while serving the function and offering thoughtful amenities to visitors. 
The hotel bathroom vanities are considered a sign of the hotel's level of modernity and cleanliness. It serves as a crucial customer-facing extension of brand identity. Many guests expect this facility to be lavish and enjoyable. So, in this blog, we explore hotel bathroom, which helps to improve hotel business. 
Tips for Hotel Bathroom Vanities
1. Install Statement Vanities
The most straightforward vanity will create a statement piece within the room, and there are many ways to obtain the wow factor. A smooth floating countertop with open shelving below will work in modern spaces while being beautiful and functional for guests. An ornate vanity that features a concrete surface will be a show-stopping piece. Take the hotel vanity to the next level by adding a backlit basin prepared from semi-stone stone. No matter what type of vanity basin, tranquil and countertops you will use, ensure it will reflect your brand personality and aesthetic. 
2. Choose the Perfect Bathtub
Usually, some guests prefer a bathtub to a shower-only space, then make sure to ditch the idea of installing a light tub shower combo and choose a beautiful free-standing bathtub which will delight the guest experience if it is a fantastic claw-foot tub or a relaxing Jacuzzi tub with all jets required to melt the stress of the day away. A luxurious bathtub will make a hotel stay better than being at home. 
3. Add Freestanding Bathtubs
Freestanding bathtubs are famous from past centuries around the globe, but they have staged a significant revival in multiple and intriguing ways. A freestanding bathtub is now accommodated in various contemporary, one-of-the-kind designs specifically designed to fit into small hotel bathrooms. 
A standalone bathtub creates a centre of attraction in the hotel bathroom. Many freestanding bathtubs make an artistic or sculpture-like appearance, creating a unique focal point in hotel bathrooms. However there are various options for - built bathtubs, but there are multiple choices for freestanding tubs. 
4. Minimize Grout Lines
Most bathrooms have showcase tiles, but you may have much or little, depending on the design and style. However, for a minimal and modern look, you should consider minimizing grout lines using big format tiles, porcelain and quartz slabs for things like backsplashes, flooring, and shower surrounds. Along with a sleek and impressive look, it will make hotel rooms more functional, and staff will need less time to clean them. It will add a spacious feel for a large-size bathroom, so continue with a massive scale by adding wall side mirrors or oversized rugs to create a greater sense of space. 
5. Use Warn and Neutral Colors
Natural colours highlight a trendy and elegant touch in a modern hotel bathroom. Soft pink light grey, cream white and powder are popular colour shades for bathrooms. With its colour combination and lost lasting appeal, white hues are famous tonnes in many hotel bathrooms. These colours will make the bathroom pleasant and cheery. 
6. Choose Luxurious Showers
An oversized bathtub impresses many, but a large shower offers a unique and luxurious experience. Also, it helps in saving money and can focus on including high-quality materials in the entire bathroom. But choose wisely what will create a spa-like shower, whether that's the tile to shower hands. 
7. Include Trendy Bathroom Fixtures
Bathroom designs are conventionally quiet and serene, but individuals choose unusual blends with luxurious finishes and eye-catching storage components. The motive behind creating a modern hotel bathroom is that customers can delightfully enjoy and making a place to escape is essential. The most significant design element is to balance light and natural colours. 
8. Lighting
Lighting is crucial in any hotel bathroom vanities because it is a place for grooming and cleaning. Thus, it needed enough lighting, which allows guests to make it presentable without being excessively bright. However, lighting is placed in the proper position and place so the guest's image doesn't look unflattering in the mirror. For instance, white lighting is an excellent option for putting on makeup, but arm colours are unique for relaxation in the bathtub.
Conclusion
The critical aspect of hotel bathroom design is to create an attractive, inviting and exciting space. It should be a place where the guest can relax and feel comfortable. While installing hotel bathroom vanities, always think about the guest; you can provide excellent services. So, if you want to upgrade hotel bathroom accessories, Sara Hospitality is one for you.
---