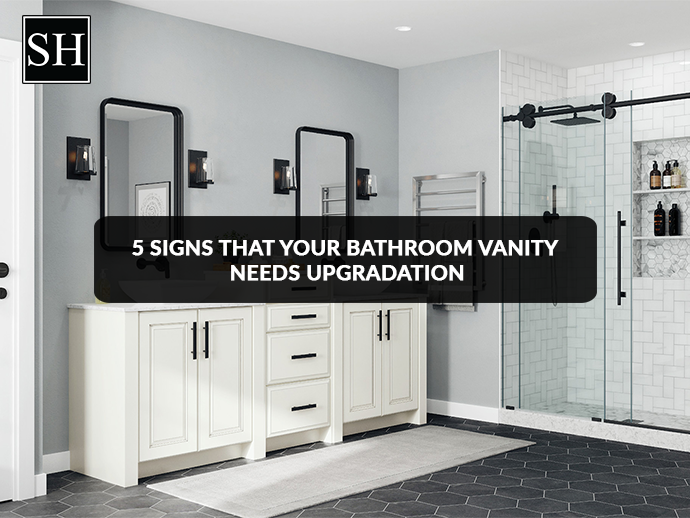 5 Signs That Your Bathroom Vanity Needs Upgradation
Sara Hospitality |
Oct 12, 2023
With a time of use, it is essential to know when to replace the vanity. How can someone discover to update hospitality bathroom vanities? What are the signs of changing them? 
Thus, this blog reveals some crucial signs that your bathroom vanity needs to be replaced with some of the best hospitality bathroom vanities. 
Sings to Replace Your Bathroom Vanity
If your mind is wrestling between a decision to keep a vanity or replace it, then here are some reasons to opt for the latter. But if you face situations like this, it is time to change bathroom vanities. 
1. Patches of Mold
It is common to have bathroom water damage, mold and rust because of the amount of moisture and steam found inside a bathroom. The mold is growing below the wood surface and other building materials. Thus, it is impossible to clean there. If left for a long time, it can trigger allergies and other symptoms. Thus, it is better to replace the vanity. 
2. Outdated Design
To enhance your room's look, you need to replace the vanity. The room can be a home, villa, hotel, resort, or another place. If you renovate a hotel room and don't change the bathroom vanity, it looks mismatched and not deemed attractive. Thus, replacing hotel bathroom vanities with a new one can elevate the room without redoing the entirety of it. 
For some people, the bathroom is a private room, and they spend quality time alone. So, it needs to look best. The outdated bathroom vanity can cause the room to look rundown even if it is not. Hence, if your room looks aesthetic like other hotel rooms, use the best hotel bathroom vanities to glorify the look.
3. Selling Your House
Every homeowner wants to get the best price for selling their home. So, they are responsible for presenting in good condition to the buyers. Thus, it happens only when you pay attention to things that need a facelift. It includes curb apparel, living area, bedroom, bathrooms, and many more.
 If you have old-style bathroom vanity, then no buyer will be interested in buying it. That's why all the bathroom vanities must be suitable for your home's overall look and match modern sensitivities. 
4. Increasing Storage
Another reason to change the bathroom vanity is its small size. Usually, it is the most common issue when the family is growing and needs more space to place things in the bathroom. You want to create extra space under the sink to keep toiletries, hairdryers, and other cleaning products. That's why changing the old vanity with a new one per your requirements is the best approach. 
In the new bathroom, you have enough space like cabinets, drawers, shelves, and other space to keep your things. You can have a dedicated place for every product in the new space. 
5. Problem with Plumbing
The sink and other pipes are hidden and act as an essential part of any bathroom plumbing system. With time when bathroom vanity wears out, then the common plumbing problem occurs like leakage pipes and many more. Thus, replacing it with modern vanity is a great way to rid yourself of this situation if you face any problems. 
Select Right Bathroom Vanity that will Enhance the Look
When you are selecting new vanities for the bathroom, then it is essential that you get the desired space. However, if you are facing any of the above mentioned issues, immediately change the vanity rather than repair it. Sometimes replacement is a smart option as it will help you to update the entire bathroom space at an affordable rate. 
Be sure to buy the best from Sara Hospitality and find new vanities. This is going to create the desired aesthetic look. Contact Us
---