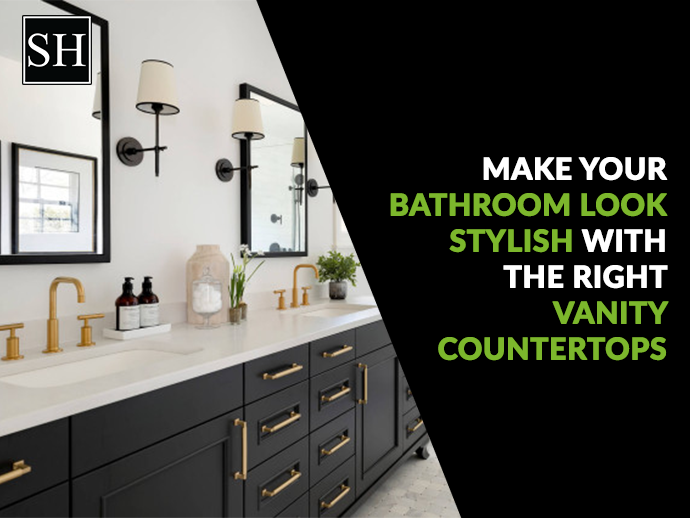 Make Your Bathroom Look Stylish With The Right Vanity Countertops
Sara Hospitality |
Oct 13, 2023
Today, changing bathroom countertops is one of the famous remodeling trends in the USA. Even some homeowners are looking to modernize outdated materials. However, some popular replacement countertop materials for hotel bathroom vanities include granite, engineered quartz, marble, and affordable surfaces like laminate. Depending on the bathroom size and structure of bathroom cabinets, you only need countertops for bathroom sinks and may require them for the whole space. The materials available for hotel countertops will improve the bathroom's functionality and visual look. 
In this guide, we help hotel owners research and understand their requirements for changing bathroom countertops for vanities or custom built-in cabinets. 
Best Choices for Bathroom Vanity Tops
In this section, we will explore one of the best materials for bathroom countertops. 
1. Quartz
Quartz is one of the reliable and abundant materials sourced from nature. However, quartz countertops naturally contain tiny quartz in them. Engineered stones are prepared using polymeric or cement-based binder mixed with crushed-up waste natural stone, granite, and marble. When all this sold material is mixed and held collectively by binders, it gives quartz tops the look and feel of stone. Quartz countertops are manufactured and sold with sinks integrated into them. 
The usage of quartz material is affordable in comparison to other stone-based countertops. Quartz is non-porous, which is less prone to bacteria and mold. Also, the quartz tops are heat-resistant and durable in the long - run. Moreover, the quartz countertops will match high-end granite and marble ones in price. 
2. Solid Surface
A premium countertop material, a copy of natural stone, is called a solid surface. It is more artificial than quartz and comes in different colors option. However, the solid surface is highly malleable, which is easily shaped and designed into a smooth countertop with an integrated sink. It has a hypoallergenic surface and is easy to clean and refurbish. Solid surface is an excellent choice for mid-range countertop material, and you can pick between different types of finishes that give a unique look. 
3. Natural Stone
Natural stones are a special kind of creating material in different colors and patterns. Often, people will select stones that match the look of their hotel or provide a unique look. There are two popular types of stones, marble, and granite, used to make countertops. Granite is a stone that is long-lasting, beautiful, and stain resistant. If you decide to install granite top patterns, it will enhance the value of space. 
For a long time, marble symbolizes wealth and exquisite taste. Only some want to buy marble slabs with striking vein patterns and tactile surfaces. Only shiny versions of these slabs are available; polishing is mandatory after installation. 
4. Wood
A wood vanity top will provide warmth to any bathroom. Natural wood will bring a soothing feeling to any aesthetic. Moreover, wooden countertops will ad a specific class in the washroom. The countertops are designed agnostic as they can be cut into any desired shape. However, the tough choice will create a different experience. 
Exotic hardwood will provide a luxurious feel in the bathroom, while simple wood will create a rustic and earthy feel. The wooden countertops are easy to afford and are designed in any desired shape. 
5. Laminate
It is the go-to choice for budget-conscious and avid DIYers. However, the laminate is easy to maintain and affordable as the material comes in different varieties, colors, and designs. Laminate material works amazingly in the bathroom due to its non - porous, and it only needs little water and soap to clean. It has improved its heat-resistant quality for years and stands strong before sun rays. If you want to repair or remodel your bathroom counterparts, it does not cost you much in the long run. 
6. Concrete
It is not an industrial material, but it has become a popular choice in its counterparts materials. The countertops are stained and have gleaming surfaces. Also, the bathroom vanity manufacturers can give it any shape and size; now, concrete is a high-end option that adds glitz to your washroom. Concrete material is highly durable and robust. However, its polished surfaces are scratch resistant and unaffected by moisture. 
Conclusion
Countertops are made using natural stone, which is versatile for use in the washroom. Stones like granite are durable and need minimal maintenance. Still, in the present time, stones are the go-to choice for many people as it gives their resistance to chipping or breaking. Although, no vanity top is suitable for everyone. It would help if you chose which is practical and enhances the space's look. If you want to purchase it, consider the top bathroom vanity manufacturer in the USA. We have a vast collection of countertops for your bathroom that modify its look completely. 
---