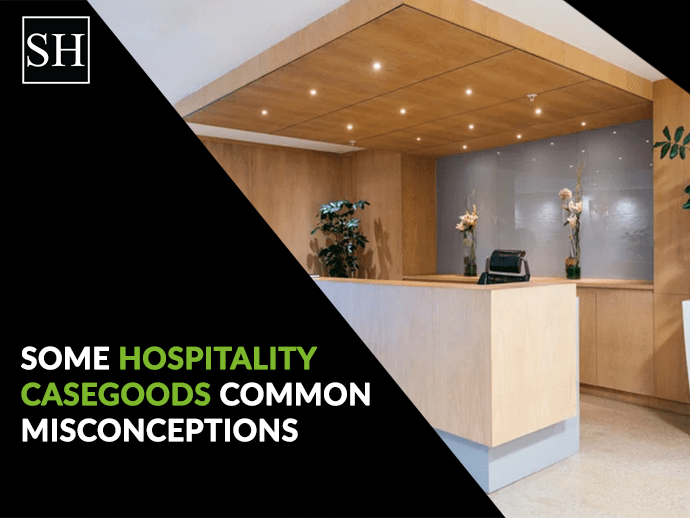 Some Hospitality Casegoods Common Misconceptions
Sara Hospitality |
Oct 13, 2023
Regardless of hotel star ratings, if you step into any hotel room, you will find that casegoods and FF&E (fixtures, furniture, and equipment) are made from various materials. In a nutshell, hospitality casegoods are provided in each room or other areas of the hotel. Still, hotel casegoods have a slight stigma for common and popular material. 
There are much misconception exists related to hotel casegood business. Especially when it is related to price, manufacturing process, and turnaround time, it is the right time to bust this misconception. In this blog, we will look at some of the hotel casegoods misconceptions that people usually have, and also, hotel owners don't rely on these myths. 

Misconceptions about Hotel Casegoods
Regardless of case goods' flexibility and functionality, people have certain misconceptions that they must overcome. Therefore, let's clear the air of myths about hotel casegoods. 
1. Take Usual Than Longer Time to Deliver Product
Hotel owners heard customized products take longer, which is only sometimes the situation. In the past, the pandemic affected the lead times and created mismanagement in the supply chain. When importing products from across the border then, lead times can soar. But, the domestic manufacturers have covered this time even in customized products. Without any international barrier between designers, manufacturers, and retailers, the lead times on customized casegoods are minimal compared to imports. In importing furniture, hidden charges are included, like shipping and the cost of lead time. The unexpected delays and backlogs can push the opening and reopen ahead, and it could result in revenue. 
 For customized casegoods production, the longest lead time can occur due to materials at the manufacturer. The material choices are vast, like laminate, stone, and veneer, which are purchased based on customer requirements. Thus, it is always better to choose domestic manufacturers because it shortens lead times and gets the product on time. 
2. Custom Casegoods are Expensive
This is the most common misconception that exists among potential customers. Specifically, American-manufactured hospitality casegoods are more expensive than imported ones. If included all factors like (freight, lead times, and materials are) then American products become competitive, if not lease, an expensive choice. Moreover, you need to take into consideration these elements that can affect the pricing:
1). Order Quantity

2). Materials
3). Finishes
The American-based companies have refined their working process, and new regulations are imposed on imported products. So, the manufacturers can give cost-savings down to buyers through cost-effective product prices. 
3. Process is Intricate
Trying to imagine customizing Hotel furniture pieces takes much work. However, it is complex that you can't see the final products before it is manufactured. This makes the entire process challenging. However, furnishing and designing a hotel is a significant undertaking. Brand image and guest experience are at stake; thus, deciding to minimize costly updates and replacements is crucial. 
Thus, working with a custom casegood manufacturer with a standard princess is always essential. It includes client approval before starting the manufacturing process. The manufacturer will support your entire project and beyond. 

Conclusion
We hope this blog helps answer queries and debunk the misconceptions regarding hotel casegoods. Our main aim is not only to be your custom hospitality casegoods but also to serve you as a resource regarding the manufacturing process. Sara Hospitality created thousands of custom casegood projects and understands that the first time is daunting. We are available for concept, engineering, manufacturing, and delivery at each stage.
---