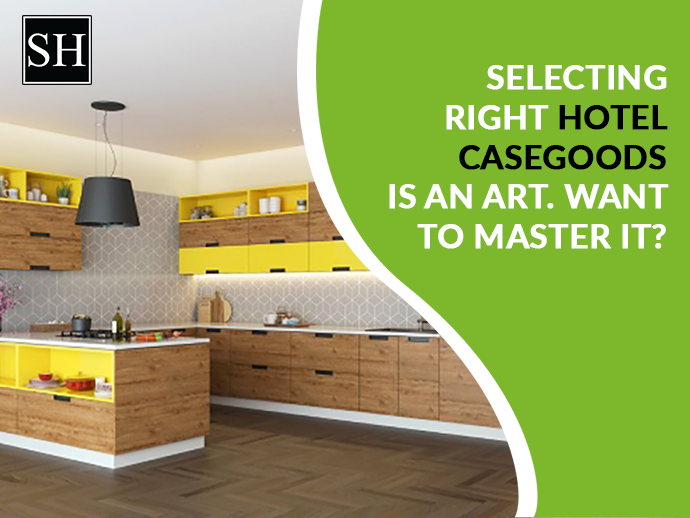 Selecting Right Hotel Casegoods is an Art. Want to Master it
Sara Hospitality |
Oct 13, 2023
Deciding on the right hotel casegoods is one of the key aspects of customer satisfaction and promoting the business's brand value. Thus, choosing the proper hospitality casegoods or motel owners' case goods should be strategic. So, selecting the right casegoods vendor or supplier is a crucial aspect. To help you ensure a fit-out hotel space, you should consult with the proper hotel furniture manufacturer. 
Usually, it is pretty common among hotel owners to choose hotel furniture based on a surface level. Thus, you can't have your needs met if you do so. Nonetheless, there are some crucial factors to consider while deciding manufacturer to collaborate with. This blog will discuss some essential considerations when choosing a casegoods furniture manufacturer.
Excellent Tips to Select the Right Furniture Supplier
Below are some tips you need to follow to get the best and most reliable furniture supplier.
1. Inventory
When you buy from a furniture supplier, make sure to purchase from those with a wide variety of inventory stocks. The inventory should include different furniture items in different styles, materials, and quality. It means you have ample choices to select the best piece of furniture which suits your hotel design. If you wish to design your hotel differently from others, then pick custom furniture manufacturers. 
Since we are discussing stock availability, there are some aspects other than the presence of items. For example, what is the turnaround time of products? Is the product in good shape, or how much time does the supplier need to fulfill the order? Thus, a good manufacturer should be able to answer all these questions. 
2. Great Price With Good Quality
Before anything you think, we want to clarify that affordable price is not related to the low price. For example, a chair's price is lower than others, but it does not mean it is not it will lose its efficiency in one day, and another will supply lasts longer. However, the price difference is slight, but the quality of affordable products is excellent. Thus, choosing a superior-quality hotel casegood is helpful. 
But you should also remember that you should not overspend beyond your budget on suppliers. Take time and search for the best suppliers to meet your budget and provide quality products. 
3. Local Suppliers
You should select a local supplier for hospitality casegoods. Always prefer those available with the stock you need, like Sara Hospitality. However, buying from an online supplier is at risk. Because the supplier is not subject to local laws and regulations, you can't claim fraud or defective products in court. Otherside, you are likely to recover money if bought from a local supplier. 
The local supplier will provide the best price on products and is likely to offer products at a lower cost. Additionally, quality products will provide more value for money.
4. Profitability
Looking at the bigger picture, running a hotel will always be a money-making business. There is always money involved, whether with profit or expenditure. Thus, while considering furniture suppliers, you should also look toward the overall cost of the product. It would affect how you run promotions and sales. Aspects like service fees, delivery charges, regional taxes, and local taxes can come into play and affect your profitability. 
5. After-Sale Service
Along with sales, its after-sale service is also essential. A great hotel supplier should have excellent after-sales support. However, if the product fails, the supplier should be able to replace it with a new one or refund the amount. It will help the hotels to resolve any issues they face quickly and efficiently. 
6. Define Value as an Essential Concern
The hospitality manager should understand the direct relationship between purchasing hotel supplies and the value received. This value will get defined only when managers will attempt to quantify every component of value. Generally, the details are a mixture of qualitative and quantitative properties. The Institute of Supply management has developed a concise definition of value. 
According to ISM, it is valued as the systematic study of the function of a product or system to unnecessary identity costs that can't be eliminated without impairing the product's capacity. The value of cost should be understood and classified as essential and non-essential. 
Conclusion
Planning hotel furnishing is not easy, but it helps keep an open mind while looking for furniture suppliers. Collaborating with excellent manufacturers will ensure to provide top-notch products. Fortunately, there is no denying that investing in the right supplier will prove beneficial in the long - run. If you are looking for outstanding hotel manufacturers, you can consult Sara Hospitality and explore its comprehensive catalog of furniture products.
---