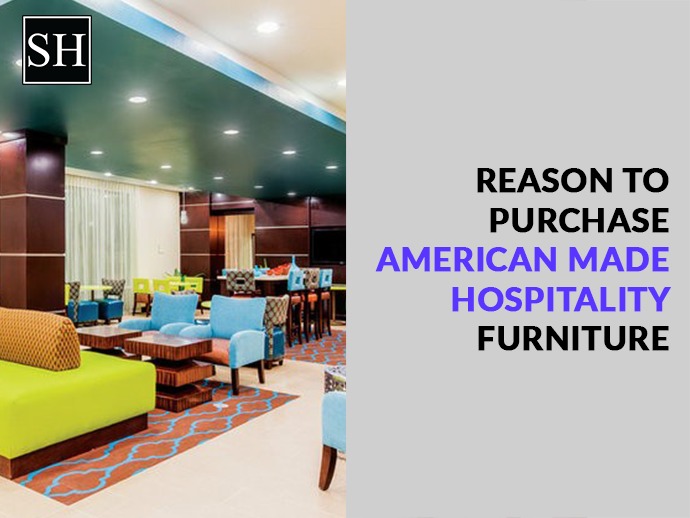 Reason to Purchase American Made Hospitality Furniture
Sara Hospitality |
Oct 13, 2023
Thus, if any hotel owner plans to revamp the whole furniture or install new furniture, you may be surprised to learn that buying from American furniture does not help US workers. But, it is better for the economy button line. 
Thus, buying furniture from suppliers outside the United States may cost you more money than you originally anticipated.
Reasons to Buy Furniture from America
1. High-Quality Furniture
The hotel owners want the furniture not only to be excellent and suitable ideally but, remain last for a longer time. Indeed, American manufacturing standards are higher than in comparison to other countries. The USA has stringent regulations regarding workers' safety, ensuring products are free of harmful chemicals. 
However, if any American company creates shoddy products, it may find itself in court and be called out on review sites and social media. 
2. Great for Environment
The leading reason to purchase American - made products is that all the products are eco-friendly. Rather than shipping products worldwide, you limit them to a single country. The leading reason this is great for the environment as it reduces the carbon footprint of materials, mainly from transporting said items. At present times, many industries comply with environmental regulations. 
3. Endorses Independence
While the global economy and international trade are essential, America still needs to thrive. America is an influential nation that built its independence and has contributed considerably to producing its products. When you strictly purchase products made in the country, you support the principles this nation was founded on. At last, buying hospitality furniture from the home country would be pocket-friendly in the long run, and customer supports the nation's economic growth. 
4. Shorter Lead Times and Lower Freight Costs
When a customer purchases or orders any product from an overseas market, it may take weeks or months to arrive. But, US furniture manufacturer does not have to worry about possible border and customs issues, and delayed delivery chances are minimal. Also, importing furniture from outside the nation involves huge freight charges, increasing costs. 
5. Support labor and Safety Laws
United nation has stringent rules and regulations regarding labor and safety laws. The laws are implemented to improve the overall wellness of employees who purchase the products. In other countries, employees should endure hazardous working conditions, small pay, and long working hours. 
For example, in the turmoil they endure, countries like China have to install security nets on the outside of building to prevent suicide cases. In other countries, the working conditions are even worsening. Buying American products supports quality labor and safety laws instead of the inhuman acts some countries use against factory workers. 
6. Better Communication Create Better Results
When you buy hotel furniture, selecting the right pieces according to the correct size of rooms is paramount to your success. In comparison, there are many other things to consider, including dimensions, finishes, furniture styles, and hardware. An American company is likelier than an offshore manufacturer to have first-hand knowledge of customer needs and preferences. 
The American company will be able to talk with you in real-time about orders and may even be able to send someone to visit your hotel personally. An in-person visit to the hotel will able to determine what is the requirement of the hotel. Also, when you hit a snag anywhere, you will more likely get a quick response and resolution from a company located in the USA. 
Conclusion
At Sara Hospitality, we produce furniture in the USA itself. We build all the furniture in America and export it to different nations or hotels in America. We ensure furniture products' quality and do our best to eliminate waste at all costs.
---