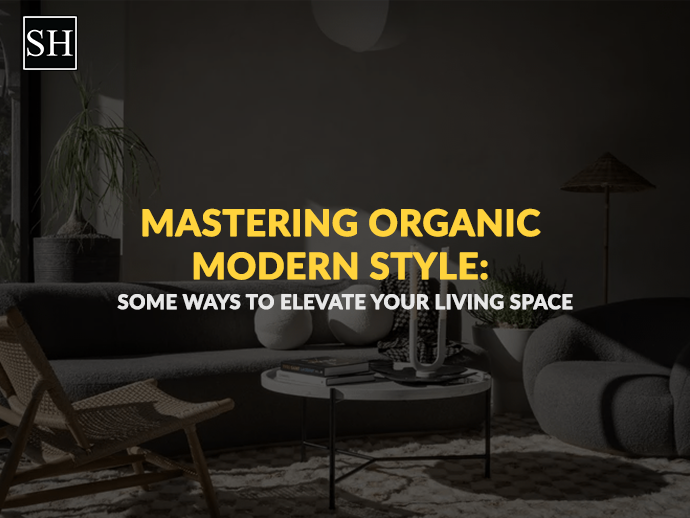 Mastering Organic Modern Style: Some Ways to Elevate Your Living Space
Sara Hospitality |
Oct 23, 2023
In present times, modern design has become popular, and it encourages various offshoots. This hybrid style uses modern design as the initial point. It divides it in new directions, pairing it with clean style lines with unexpected components like beachy lines and magnificent mirrors. However, the organic modern style is a precise departure from conventional modern design, which focuses on using organic materials and eco-friendly elements. It provides a more earthy and warm feel in comparison to modern design.
In the interior design world, many trends come and go, but the organic modern trend has a long and popular history, which leads to a timeless appeal look. This latest trend perfectly blends hospitality furniture and enhances its looks with naturalistic components. So, in this blog, we will find some amazing ways to use an organic modern style that will enhance the living space.
What is an Organic Modern Design Style?
The organic modern style has the same look paired with minimalist and Japanese interiors. Its main focus is mixing earthy tones, organic materials and mid-century furniture. The organic modern style furniture perfectly blends and balances minimalism and trendy decor. In the hospitality industry, custom hotel furniture is layered with natural materials, providing a refined, textured space that conveys sophistication.
The organic modern trend's basic feature is to balance sleek and crisp against earthy and textured materials. So, get the right result with a hospitality furniture manufacturer and create functional harmony with a modern lifestyle.
Ways to Elevate Your Living Space
Here are some ways you can elevate your living space with the Organic Modern style:
1. High Contrast Palette
The living room style that stands with time uses a high-contrast colour palette that offers an elegant and classic look. So, stick to a high colour palette inspired by earthy tones such as warm greys, soft browns, muted greens, and whites. These colours create a serene and calming atmosphere that reflects the organic theme.
Even for some hallmark components, different styles include dark lacquer, gold metal and glass, and dull upholstery colours like light greys and dusty pastels.
2. Use of Tone Wooden Furniture
Along with a high-contrast colour palette, light hues of wooden furniture are estimated to make a bigger splash in future. Not only does the lighter oak shade enhance our spirits, but it also complements aesthetic design and reinforces the feeling of open space. If you prefer maximalist instead of minimalist, lighter-tone wooden furniture matches other decor styles than dark wood, lacquer and metal pieces.
The dark shade of wood will create the illusion of an enclosed area to create a relaxing atmosphere. If you want to create a zen atmosphere and optical imagination for the larger room, then it is best to choose neutral colours.
3. Stock Up With Unique Furniture Pieces
Organic modern furniture design provides a minimalist look, and you can focus on quality over quantity, which bridges the space with attractive pieces that create an impressive impact. Choose a few hospitality furniture pieces that combine modern design with organic materials. Look for pieces with interesting textures, unique shapes, and natural finishes.
4. Put Natural Plants
Besides being visually attractive, indoor plants are related to various health benefits, like reducing stress levels. Its therapeutic properties and advantages of indoor plants are backed by science, which is a win-win situation for the space. Through this, people do not feel connected with nature, but plants will positively impact overall well-being. Plants are a staple in modern design, so you can smoothly stock up on greenery and place it easily.
5. Natural Stone from Flooring to Ceiling
Sometimes, decorating space with natural materials seems challenging. But, there are some amazing approaches in which you can easily add organic materials in space. In modern spaces, concrete floors exposed with brick will add dimension to the space and marble countertops in the kitchen - all these are natural materials you have in your space without realising their importance.
However, if you haven't used them yet, then here are some ways to add them:
Both materials are perfect for minute elements of the natural world within your space. From planters to pots to sculptures, clay and terra cotta will smoothly add rustic, organic charm to your space.
Concrete is an organic material that will strongly stand with time and is widely used in flooring and countertops. If you are not ready to use concrete inside the space, select laminate or tile, giving a similar natural look to stone.
Tile is used on floors or walls and comes in multiple colours and textures, ranging from stone-like to decorative. It is durable and lets you select how organic material looks and feels.
6. Biophilic Design
Embrace biophilic design principles by introducing elements that mimic nature. Consider adding indoor plants, nature-inspired artwork, and natural patterns to create a sense of tranquillity and connection to the outdoors. The elements of biophilic designs include neutral colours and various other lighting, nature-referring art, reclaimed wooden surfaces and wooden accents. As an added advantage, biophillic designs will create a positive impression on mood and enhance productivity.
Conclusion
The biggest thing to remember while updating space is to keep updated with trends like organic designs and sustainable materials. If you want to completely update or furnish your living space with new wicker furniture, reach out to Sara Hospitality to achieve organic-style furniture.

---