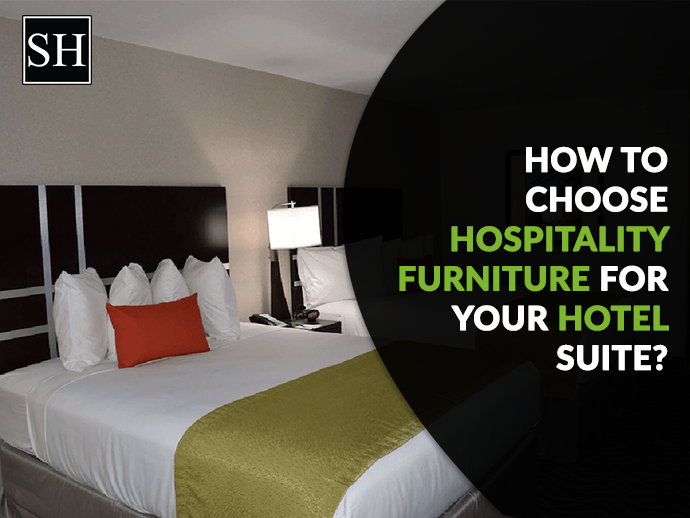 How To Choose Hospitality Furniture For Your Hotel Suite?
Sara Hospitality |
Oct 13, 2023
Selecting furniture for a hotel room differs from selecting furniture for a restaurant. Both these serve the common sectors, i.e., offering food and comfort. But when it comes to choosing a hotel property, you are not offering tasty customer food but also an excellent place to stay and entertainment. Therefore, choosing the best furniture is granted seriously. 
Managers choose custom hospitality furniture that helps customers feel comfortable and service beyond expectations. Unarguably, when a customer enters the hotel room, they have first eye interaction with its arrangements and furniture you have. 
The practical furniture conveys the hotel rooms' environment and quality preservation. If it's your first time selecting furniture for a hotel room, follow these crucial factors for choosing the best fixtures. 
Tips to Select Best Custom Hospitality Furniture
Picking up the right furniture for a hotel suite is not an easy task. However, the aim is not only to create a positive atmosphere, but it should be stylish and grab visitors' eyes. However, to ensure the best choice is made, consider the following tips and then decide. 
1.  Comfort
As a hotel owner, it comes to your priority list that your guest should be comfortable. Thus, when looking for different hospitality furniture manufacturers, choose one that will ensure comfortness. The furniture will provide the utmost comfort to the guest.
Also, choose mattresses with high coil counts and thick pillow tops—considers offering multiple types of pillows so the guest can choose as per their preferences. 
2.  Placement
An important consideration should be given to the available furniture placements to buy new furniture for the hotel suite. All the hotel suite structures are different from one another in shape, size, and orientation. So, the exact furniture placement can't satisfy all kinds of hotel rooms. 
The hotel rooms are different to accommodate different numbers of people, like individuals, couples, friends, groups, and families. So, remember all these things in mind while selecting furniture that provides versatility in types of furniture placements. 
3. Style and Theme
Style selection should be the first step when deciding on the furniture for your room. The theme of your hotel suite will determine what type of furniture is suitable. The furniture you choose can't be mixed and matched. You need a specific set of designs that will complement the interior and room. 
 Moreover, ensuring that the furniture in the hotel suite will follow your style will entirely change the outcome. It leaves you with a stunning design that guest dares to visit again. 
4. Aesthetically Pleasing
In the hotel suite, try to pick a decent color scheme that gives a feeling of relaxation to the guest. Usually, it includes neutral and earthy color tones. The shapes and textures invite us unless you can choose themed rooms that have modern, geometric shapes and smooth, soft surfaces. 
 At last, the furniture should go well together and belongs with the rooms. If you don't have an eye for designing layouts and picking the table, custom hospitality furniture can help you achieve this. 
5. Asymmetry
This will make the room's interior stand out from others. Nowadays furniture of different shapes is in fashion and trendy. But, it does not offers benefit. Different zones or heights of chairs, the unusual shape of table and chair, and the contrasting color of shelves help to use the room space effectively. 
 Thus, we recommend paying attention to modern models. Even an elongated couch will look better in two room suite with a small area with two massive armchairs. 
6. Technology
Currently, guests expect that hotels will offer them all the latest technology facilities. Many hotel furniture now provides complete technology amenities to the guest, and it will benefit the guest to work away from home. However, compatibility with guest devices must be considered in this digital era. 
Some hotel suite offers the best entertainment experiences in guest rooms. So, all the entertainment centers, high-quality television, and on-demand content fit the hotel furniture budget. 
Conclusion
Purchasing furniture for hotels suite should never be an afterthought. The furniture you choose could be the most influential factor in how your guest perceives their experience in the hotel. Buying the best furniture does not have to be complicated. 
Sara Hospitality has all the furniture you are looking for. Our comfortable, high-end commercial furniture will wow your guests and create the welcoming atmosphere you hope to achieve in each room.
---