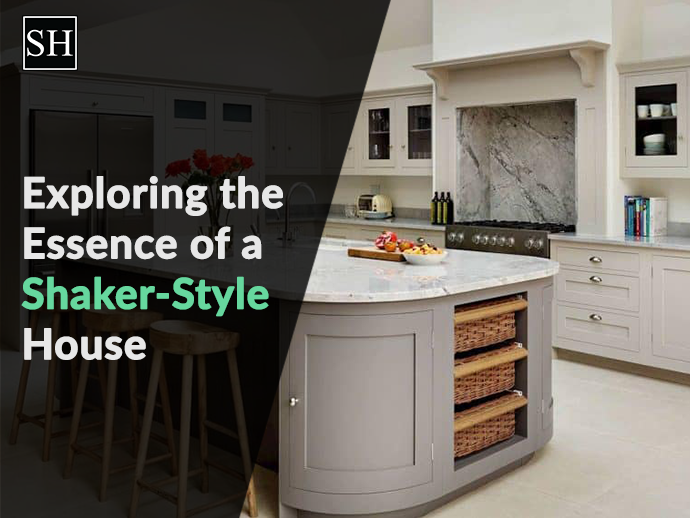 Exploring the Essence of a Shaker-Style House
Sara Hospitality |
Nov 17, 2023
The Shaker-style home design is an amazing design that has existed worldwide for centuries. Due to its simplicity and functionality, it has become a timeless favorite for both residential and commercial spaces. It uses clean lines and organic materials, creating a calm impact that is perfect for any interior space. Its elegance and versatility make it an excellent choice for those who want to add a touch of classic style to their space.
If you are still determining what shaker style is and if it is the right design for a home, read this guide and discover.
What is a Shaker Style Home?
If you like the warm minimalist style popular as of late, Shaker design doesn't stray too far from aesthetic. Here's a definition of Shaker - style home:
A smooth white and light neutrals palette creates a monochromatic look divided by muted pops of calm colors and yellow.



Clutter-free interiors include necessary and useful essentials.
Well-designed wood furniture with practical silhouettes that refrain from ornamentation and focus on quality over quantity.
Spaces range that enable ample movement and light.
History of Shaker-Style Home
Shaker styles originated from Shaker Quakers early in their history. The people lived on their principles: utility, simplicity, and honesty. Their beliefs are shown in their food, home, and furniture. The styles enable Shaker Quakers to fashion furniture out of organic resources available in their isolated communities to build long-lasting and functional solutions within the home instead of wasting time with ornamentation.
Key Components of Design
A shaker home is indicated by its simple and functional design. The conventional shaker style is based on utility, quality, and simplicity themes. The noted features of the shaker house are clean lines, natural materials, functional floor plans, and simplicity. Its window is streamlined in rows, and its doors are usually raised above the floor. The shaker style prioritizes practicality and functionality with rooms, furniture, and cabinetry. Its floor and walls are prepared from wood, and its decoration is kept. A shaker home is a timeless design that brings classic charm and practicality to any home.
1. Windows and Doors
In a shaker home, the windows are tall and narrow with simple frames and without decoration. Generally, it has a single top sash, divided into more than two panes, with a bottom sash with a single pane. These frames are colored with white or beige color and designed in arched and square shape. The window glass is frosted, which gives the window a different look.
Shaker-style homes' doors usually include features, i.e., classic, minimalist design and clean lines. The most usual door styles in shaker homes feature flat panels with recessed boundaries. The hospitality furniture manufacturer will design from wooden or mixed material and paint with soft colors.

2. Furniture
In shaker style, the hospitality furniture design is simple. It includes straight lines, no ornamentation, and is manufactured from natural materials. The normal furniture pieces in a Shaker-style home is dining chairs, tables, sideboards, bookcase, and couches.
Get The Shaker Look
Shaker style is a classic because it provides a sense of calm in an otherwise hectic world. Shaker architecture is only feasible for some people, but you can still achieve the same minimalist and modesty by using Shaker elements.
1. When Selecting Decor, think "monotone"
In Shaker homes, the only color choices were the natural tans and linens used for bedspreads, cushions, and other items. Choose a muted shade in a solid pattern if you want to add color.
2. Shaker furniture is a great addition to any home.
Less is more when it comes to Shaker furniture. Plain furniture wins over fancy. A modest solid wood square or rectangle table with ladder-back chairs is perfect for an eat-in area. A plain wooden rocking chair will add a touch of class. One rocker was allowed per room for the Shakers. Dressers, nightstands, and wardrobes made of natural wood with flat-fronted doors and drawers are ideal.
3. Remove pictures from the wall and remove clutter.
Shaker-style walls are free of pictures. Keep family photos in albums. Hang an old-fashioned bonnet or a flat broom with natural bristles (the Shakers created the flat broom) from a peg at the back of the door or on the picture rail for authentic wall decoration. Only keep the things you use every day on your counters. Store away your coffee maker and toaster.
Conclusion
A Shaker-style house is a home that embraces the principles of simplicity, functionality, and quality craftsmanship that were characteristic of the Shaker religious community. It emphasizes clean lines, minimalism, and using natural materials while prioritizing practicality and efficiency in its design. So, if you want to design a style home and want custom furniture, then reach out to Sara Hospitality.
---