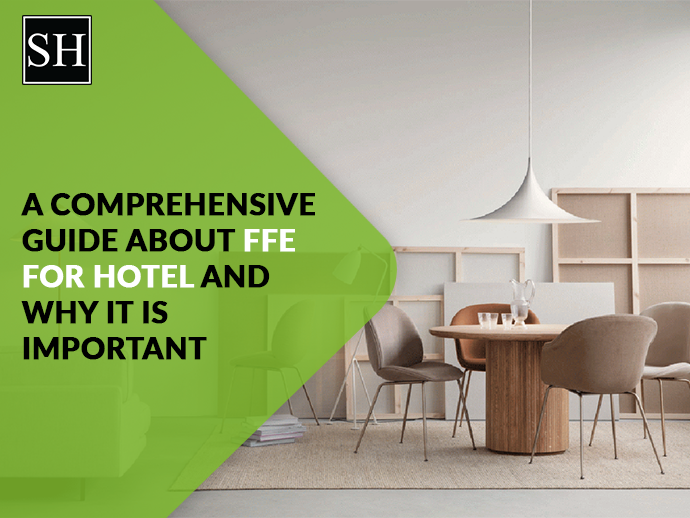 A Comprehensive Guide about FFE for Hotel and Why it is Important
Sara Hospitality |
Oct 13, 2023
FF&E is used in the vast world of hotel furniture projects and hospitality. The FF&E stands for furniture, fixtures, and equipment. In other words, the harmonious amalgamation of stationery products enables you to perform daily tasks efficiently. But what is FF&E? 
Moreover, when we talk about hospitality FF&E for a hotel, it is significant to comprehend the pivotal role of three elements, i.e., soft or hard decoration, design, and ambiance. The frequent interactions of the three components will build a friendly and positive user experience.
What is FF&E?
The hospitality furniture and fixtures is a design subset whose aim is only on interior and removable features of space. Although fixtures, equipment, and furniture appear in the acronym, this design can refer to any components and not be fixed to actual structures. So, only think about the things you can move quickly with new space. Unlike construction and remodeling, FF&E does not focus on the structural aspect of the building, walls, and support beams.
The examples of components in each category include:
Furniture: This category includes anything you can sit or use to hold objects like couches, beds, tables, dressers, chairs, cupboards, and bookshelves.
Fixtures: These include items that serve a practical or functional purpose, like lighting, doors, wall mounts, and counterparts.
Equipment: This category refers to technology or systems throughout the structures, like desktops, mobile phones, fans, appliances, or wiring.
Finishes: This includes fabrics and textures used for aesthetic appearances like paint, wallpaper, carpet, vinyl, marble, and tile.
Other items: These decorative elements may include bedding, area rugs, pottery, lamps, and plants.
In a nutshell, hospitality FF&E is anything attached to the building. If you were to turn the building upside down and move, FF&E is everything that falls out. 
Importance of Furniture, Fixtures, and Equipment in Hotels
Many people often ponder what FF&E is for hotels and why it serves as an internal aspect of hotel operations. While discussing the significance of FF&E in hotels, examining the hotel's interior design, increasing its value, minimizing cost in the long run, and boosting process management is crucial.
1. Enhance Value
The components that characterize what FF&E is for a hotel help in enhancing the overall value of the hotel. For this, a person can go the extra mile to enjoy the hospitality. Therefore, the components have some personality and focus on guests' comfort. Due to this reason, hotel FF&E and installers work with the interior designing team to create a warm and welcoming space for guests. 
2. Reduced Cost
Lastly, the proper adaption of hotel furniture and fixtures enables you to save money in the long run. However, by clearly understanding FF&E services, businesses can help minimize costs and enhance quality by employing premium commercial-grade furniture. However, the FF&E price tends to range between $10,000 to $30,000, depending on the room type. 
However, providers can minimize these costs using multiple techniques like outsourcing, manufacturing overseas, and domestic. It entirely depends on the prices and reducing the replacement. This approach can create an increment in revenue and reduces expenditure. 
3. Interior Design of Hotel
Decent hotel FF&E enables elevating the overall design of space. In other words, it helps to fabricate a traditional and unique ambiance in space that encourages people to return. Moreover, to render the actual benefits of FF&E in hotels, it is crucial to execute it after planning. 
However, hotel managers need to adapt and design the layout of FF&E to cater to the needs of customer expectations. Besides, it pays a humble homage to the local culture and environment. Ultimately, the entire FF&E for the hotel is created to stand true to the fact hotel is away from people's homes.
Why is FF&E Essential?
FF&E set the mood and atmosphere of the location. The furniture is essential for any place like an apartment or private residence, and home feels like home instead of a place to sleep and eat. This decoration helps elevate a hotel to feel upscale, bar trendy, and makes the room feel cozy. The fantastic combination of elements and an effective marketing strategy can create a strong brand image for the hotel. It motivates people to view business in a certain way and attracts specific demographics of customers. 
Process of Selecting FF&E
Most of the hoteliers work with local vendors to buy FF&E products. The number of vendors you work with it depends on your needs. The commercial offices may work with a single furniture vendor, but the hospitality sector works with multiple vendors. 
Primarily there are two types of processes for buying FF&E:
1. RFP Process
When you adopt the RFP route, usually vendor leads the process. In this, your designer can help you to write RFP and solicits proposals from local vendors. You will have the option to interview vendors and can visit their showrooms before signing the contract. 
After this, your designer can efficiently conduct meetings and discuss design elements like how FF&E is used and the color scheme. Although the vendor will lead the other process, the designing team is involved in creating a cohesive interior. 
2. Bid Process
In the bid process, your interior designer will lead the process. The designing team will research products, explore choices and make wise decisions. After this, they create each product specification, create bid packages and solicit bids from vendors. Thus, working with vendors helps in ensuring ordering and installation run smoothly. 
Conclusion
Still, if you are confused about FF&E and its role, consult Sara Hospitality. We have a range of products and provide premium quality furniture fixtures. With our diverse furniture collection, we can help you amplify your hotel and create a magnificent space. 
---